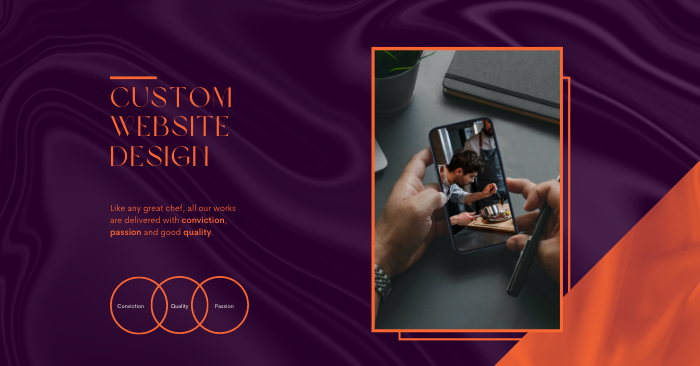 A custom website design main purpose is about having a good-looking website that has the ability to communicate with the target audience and market with the best user experience possible.
When you are planning to run a digital marketing campaign for your business needs, the objective should always be clear – to increase your brand image and ability to convert visitors into customers.
Placing a budget on a custom website design is like buying a new iPhone instead of an older model. Thus, this distinguishes your corporate image to be seen as a modern or cost-cutting type. But nevertheless, a friendly website is inevitable in every business.
Custom web design depends heavily on brand values and corporate communication strategy. Implementing custom design will have more benefits associated with it as opposed to templates website.
Here are the seven points you can consider when choosing either custom web design or template website;
1. SEO-friendly website
It is a no-brainer that any custom web design should have full-fledged on-page SEO implemented into the website and every page. Together, its uniqueness of creative design and SEO will boost the website ranking at a faster pace.
Google tend to favour more on custom-made websites more than template type websites. Custom design website usually has better dwell time on the website, because of their uncommon or rare design, it connects the brands and customers more effectively, hence it ticks the Google SEO algorithm when customers stick at your website for a long time.
Template websites, on the other hand, will derail opportunities for conversions. But, if you are looking to build a website that only displays your product images like a catalogue, then without a doubt, a template website is the better choice as it is also cost-effective. In this case, the SEO ranking factor may not be your main priority.
2. Custom web design & Digital Marketing
The winning formula for your digital marketing campaign to be successful is to have strong branding, powerful content, creative and custom website design, and a formidable web strategy. Let's call this the Godfather approach.
The objective here is to get your target audience to be excited when engaging in your website content and make an offer that they can't resist! When browsing through your website, they should learn better about your services, product capabilities, business process, or your brand offerings. Or else, you are wasting their time and not to mention your cost for digital ads will burn in split seconds.
However, if you are getting a template base website means setting lower expectations for conversion. Therefore, on your website, try giving out lots of free items like ebooks, free trial services, and promo codes to maximize your audience's time on the website.

3. Custom website design services for different products
For some business websites which offers different products, it is important to have custom web design pages for each product. Each product may serve different purposes, thus, it should have a different user experience designed with its unique functionality.
Web designers' job is to bridge the gap between the product presentation and the target customer. Take the Apple website as an example, if you compare iPad vs Macbook, it has a different user experience flow, but is watered down under the same design theme.
In this case, you want to consider hiring a web design agency instead, as they have a team of professional web designers that could pour fruitier creative juices into the design process.
But if you are not a fan of the Apple website, you can always opt for templates web design, and choose the ready-made style that is close to your requirements.
4. Time-saving
A custom website design will save you a lot of time in many ways, as most of the design thinking will be covered by the web design agency and web designers to ideate everything.
Just throw in your brief, grab a ticket to the Maldives for holiday, and check back in 2 weeks later. Or perhaps, grab a glass of Pina Colada at the lounge (if you are staying longer than 2 weeks), and comment through the remaining 5-10% of your thoughts to confirm the design.
Now it is easier to communicate via digital Zoom, MS Teams or Google Meet. You see, a custom-made website has never been easier. Owning a custom design website will give you more flexibility, and full control over the content and design for your website. You can simply log in to the content management system cms and make the changes on the go.
5. Brand recognition
A user-friendly custom website design gives better brand recognition. Each element of design from the brand identity can be inherited into the website. For instance, the brand typeface, brand logo, brand colour palettes, and brand tone of voice, among others.
This helps you create a blue ocean strategy for your business at the digital level, and with that plan in mind, a hybrid web design company usually have both the branding team and web design team that usually work together during the design process. The gives a full spectrum of the design and visual communication for the brand.
On the contrary, a template website does not need any of the above. As it requires less design process, therefore, a professional web development company is sufficient to support to this business needs or project.
6. Complete bespoke web design solution
Going custom web mode could be the ideal way to achieve the design style that you have always wanted. If you want your website to look like the Apple website, and able to make changes on your own later via a content management system like WordPress, it is all possible.
Hiring a web design company that provides full custom website design services will be able to fulfil this business requirement. Simply because a web company usually has a bigger team to cater to this objective. Building the Apple website may look simple, but at the same time can be complex, as it requires many years of experience to create that desired outcome.
7. BENEFITS of custom website design
Apart from visual design customisation, the other benefits of having a custom website design would be mobile accessibility, search engines friendly, custom features, dedicated professional team of web designers, to name a few. All these item checklists are thoroughly deliberated as part of the big idea and design plan.
Have you got your custom website design yet? Switch from a template website to a Custom design website and see your sales skyrocket in no time!
#Custom Web Design
#Custom Website Design
#Template Website
#Web Design Agency
#SEO Ranking